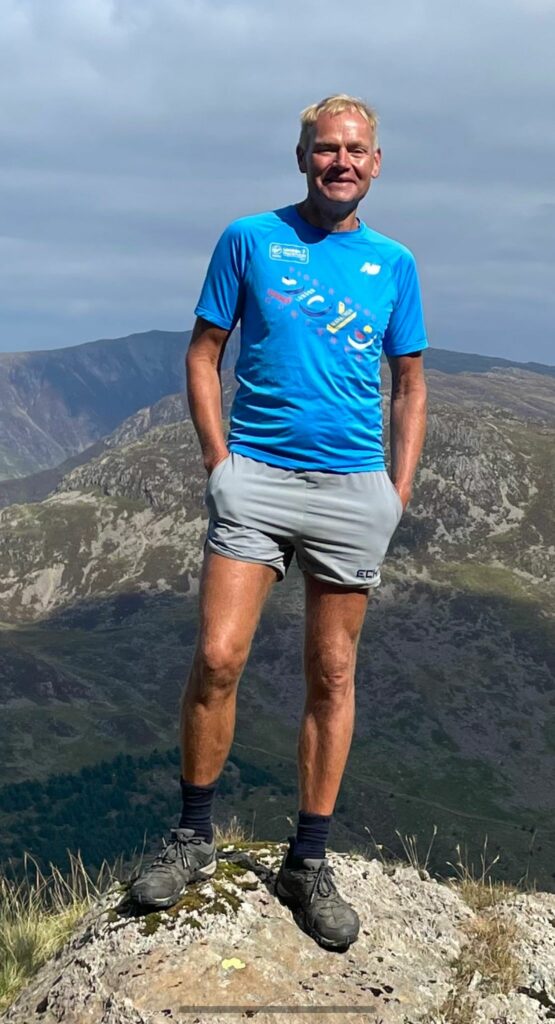 Tell us a bit about yourself, how long have you been in Brighton and what do you like about living here?
I've been coming to Brighton to visit my best friend and get up to lots of sporadic mischief for the past 20 years. When I gave up teaching she persuaded me to move down to the South Coast and eliminate the sporadic-ness. Worthing was cheaper and quieter than Brighton (I have to remind myself I'm not 20 any more) and just as much fun. I can now do what I've always wanted: be fully part of a huge, life-asserting and fun LGBTQ community; run, walk, hike and sunbathe; reflect on how wonderful it was being a teacher without having to do it any more; and get out to my flat in Madrid as often as I can.
I love having the sea on one side and the Downs on the other;  being close to LGW and London, and being able to join in so many different things going on in Worthing and in Brighton and Hove.
How long have you been running, and what is it about running that you enjoy?
When I finally gave up smoking in 2007 (and drinking shortly after), I started running (wobbling at first) to try to get rid of some of my 15 stone. After lots of huffing and puffing, it worked! A friend of mine commented that I seemed to be quite fast, and should enter a race. I'd never run a race before and always been amazed at people I knew who'd run the London marathon (26.2 miles? Impossible). But I entered a local trail half and came first in my age group.
I love running because I can do it anywhere, any time.  I love the outdoors and running lets me see the world and forces me outside even when it's cold and wet.   And it's so so good at helping me sort out my brain and put things in perspective.
What made you decide to join Frontrunners and how did you hear about the club?
When I moved here I knew 2 people well.  I'd always run on my own before, so joining a club seemed to be the best way of meeting people, running with others, getting to feel part of the LGTBQ community and to really belong (belonging is SO important).    I joined BLAGSS because I'd heard of them;  they said in passing that  I might enjoy  going along to a club which met every Weds at the King Alfred.  I never looked back.
Have you run any races before? Have you signed up for any upcoming events and what are your goals?
I've run London 10 times as well as Valencia (x2), Madrid (x3) and lots of half marathons and 10ks.  Biggest challenge was the Run to the Sea ultra.  I like endurance and long distance so am running that and the Brighton trail next year.  Current highlight in the diary is Boston next April (fingers crossed) – would love to finish within 3 h 15 again.  My goal is to remain "Good for Age";  it makes me sound nice I think.
How did the COVID-19 lockdowns affect you and your motivation to run?
I had a roller coaster lockdown emotionally and coped by clocking up more kilometres than I've ever run annually before.  Think I now know every path and bridleway in the Downs.  Loved it.
Why do you enjoy being a Frontrunner?
One of the best decisions I've made.  What a lovely, supportive, caring group of people we are.  So much belonging, so much friendship. We all look out for each other and we all care. And we're all very good-looking of course (and modest).