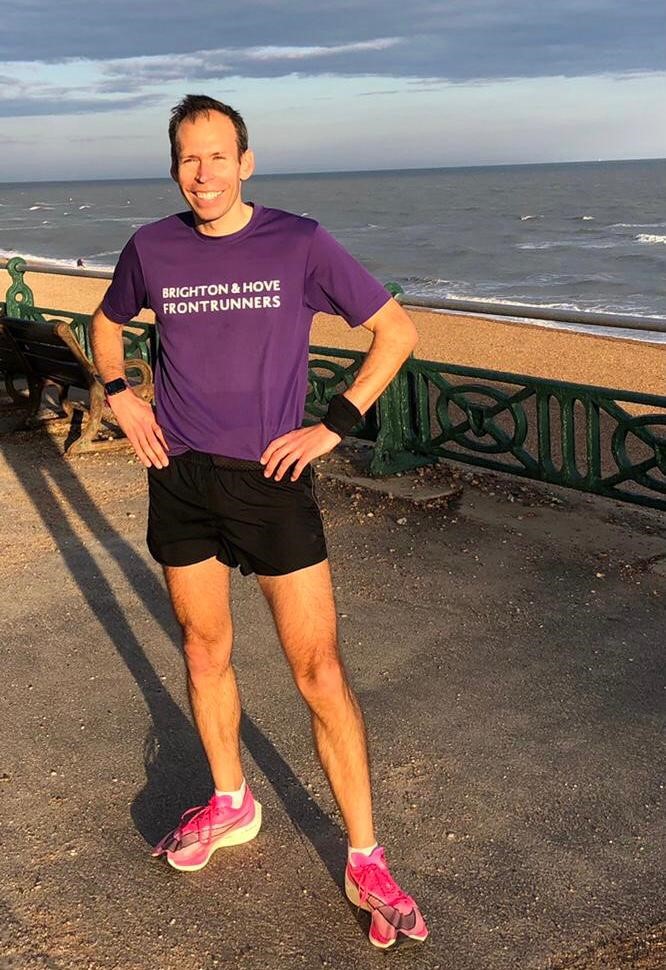 Tell us a bit about yourself, how long have you been in Brighton and what do you like about living here?
I have been in Brighton for 15 years, I moved down shortly after starting work on the airlines from Gatwick airport. I have lived in Preston Park, Hove and now am in the Queens Park area. I love being close to the sea and the south down trails. I also love all the different events that go on throughout the year in the city. Brighton Fringe Festival is one of my favorites'.
How long have you been running, and what is it about running that you enjoy?
I have always had a love for running and athletics. I was in the cross country and relay teams in high school. I always wanted to do a Marathon, and loved watching the London Marathon every year as a child. When Brighton got its own marathon, I thought this is my chance and entered, and haven't looked back. To date I have done 7 Marathons, but more recently have fallen back in love with the shorter distances. I race 800 metres on the track. I love trying to run faster than I have before over any any given distance. I love the simplicity of running, the process and then the progress.
What made you decide to join Frontrunners and how did you hear about the club?
I was one of the founding members of the club. I had recently been to the Gay Games in Paris in 2018, and was amazed to see and hear of all the FrontRunner groups from around the world. I only really knew of the London FrontRunners, I knew of other clubs but didn't know so many, and how big some of them were. A friend had an idea to put an ad in Facebook to start a lgbtq running club, and from there Wednesday night clubruns have been born.
Have you run any races before? Have you signed up for any upcoming events and what are your goals?
I love to race and have lost count of how many I have done. I still get nervous on the startline. My current goal is to try and go under 2 minutes for 800metres. I would also like to qualify for a European or World Masters final, and medal at the British Masters outdoor Championships. When you hit 40 and enter Masters competitions it becomes competitive within your age group. I'm also keen to go at another Gay Games event as it was such an amazing experience. The next one is Hong Kong 2022.
How have you managed to stay motivated during recent lockdowns and have you participated in any Frontrunners or other online challenges?
Yes, The FrontRunners challenges have kept me motivated, doing some time trials early on, and just having a connection with the group helps. I'm lucky I am quite self-motivated, so I normally am itching to put my trainers on, and go out for a run.
Why do you enjoy being a Frontrunner?
I enjoy the running community we have. We have all ability runners, and celebrate all the successes. I love the social aspect too. We also go for drinks or food after a big local race, and come out to cheer on the runners if you're not racing yourself. We volunteered at East Brighton Parkrun before covid, which we loved too, am hoping we can do that as a club again when they start back up.
What else do you enjoy other than running?
I have a love for fitness and have recently trained as a Personal Trainer, and am enjoying getting that of the ground and delivering online and in person fitness classes. I love winter sports especially skiing, and also enjoy a boogie and a dance. I love going to concerts and the theatre, so can't wait for those to open up again.
You can find out more about Paul's Personal Training and classes at www.runcorefitness.com